---
Cruikshank, George:
Illustrator and caricaturist; b. in London, Sept. 27, 1792. He worked with his father, Isaac, and his elder brother, Robert Cruikshank, and began to publish his work when only twelve years old, some very tolerable designs having been issued when he was fifteen. From this time until he was nearly eighty he produced etchings and wood-cuts incessantly.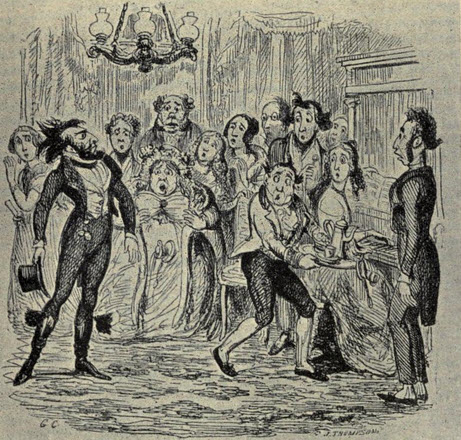 George Cruikshank Frightening Society, 1842
During his early life Cruikshank's most important work was in the way of large political and social caricatures, often colored, and often of extraordinary boldness. His attacks upon the prince regent, afterward King George IV., and equally upon the queen, who was the opposite party in a scandalous discussion and trial from 1815 to 1821, were unmeasured and ferocious. From about 1823 on his more important work was book illustration: Points of Humor, in 1823; Grimm's German Popular Stories, in 1823—27, with perhaps his most famous etchings; Greenwich Hospital, in 1825; The Novelists' Library in 1831, with illustrations to Tom Jones, Humphrey Clinker, Roderick Random, The Vicar of Wakefield, etc. The Comic Almanack, from 1835 to 1853, with twelve full-page etchings in each of the volumes but one or two; Oliver Twist, which began in Bentley's Miscellany in 1837, and was the only one of Dickens's novels illustrated by Cruikshank; Rookwood, Jack Shepard, The Tower of London, and other novels of William Harrison Ainsworth, some of which appeared first in Bentley's Miscellany ; The Ingoldsby Legends, also from Bentley; Frank Fairlegh, George Cruikshank's Fairy Library, in which some of the old fairy-tales are told anew in the interest of total abstinence from alcohol, and are illustrated with charming etchings—all were published before he was sixty years old.
After that time his work was less abundant and less vigorous, but had still great merit. One of the best things of his later work is the Life of Sir John Falstaff in large etchings, published in 1858. D. Feb. 1, 1878.
Article by Russell Sturgis.
---