---
Robert Cruikshank
Isaac Robert Cruikshank, often known as Robert Cruikshank or I.R. Cruikshank (27 September 1789 - 13 March 1856) was the son of Isaac Cruikshank and the older brother of George Cruikshank. Like his father and brother, Robert was a caricaturist and illustrator, but though he enjoyed some commercial success, he never achieved the same level of popularity as either of them.
Robert was very close to his brother, As youths, the two Cruikshank brothers shared common interests outside of art. They attended boxing matches, cock-fights and acted in dramas that they had written together with another friend, Edmund Kean.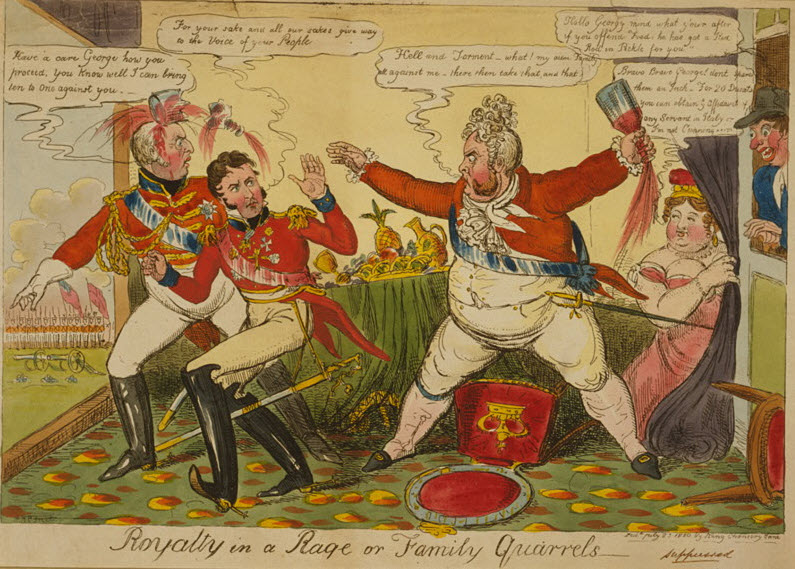 Robert eventually went to sea as a midshipman in the service of the East India Company. After a falling out with his ship's captain, Robert Cruikshank was deliberately marooned on the island of St. Helena, where he remained for several years until he was able to get passage back to India. His return shocked his family, who had been told that Robert had died at sea.
After his return, Robert frequently collaborated with his brother George on illustrating several successful books, including a series on "London Characters" in 1827. Although he was not as successful or as known as his brother George, Robert Cruikshank was a talented caricaturist in his own right. His drawings and illustrations offer an interesting glimpse at the social conditions and issues of the time.
Robert Cruikshank died in 1856. His brother George blamed Robert's alcoholism for his death and it spurred George Cruikshank to become a tireless campaigner against alcohol consumption.
Below we have assembled a small gallery of caricatures by I.R. Cruikshank (Robert Cruikshank). These images are courtesy of the Wellcome Collection. Attribution 4.0 International (CC BY 4.0)
---