---
James Gillray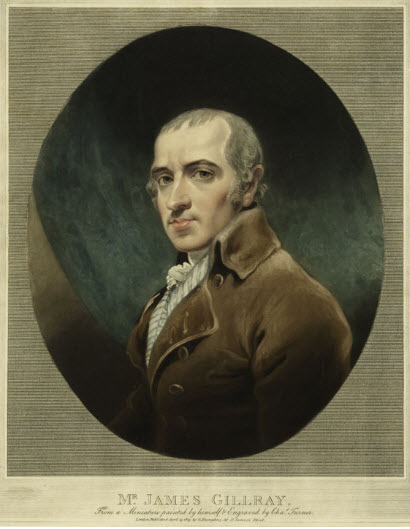 James Gillray

James Gillray (13 August 1756 or 1757 – 1 June 1815), was an influential British cartoonist, printer and print maker famous for his etchings on subjects of political and social satire.
Gillray devoted most of his energies to caricaturing and mocking King George III of England, the insane King remembered as the King Who Lost America because he was on the throne during the American Revolution. He also directed his satiric wit at other political figures of the time. His output was prodigious, and he is believed to have created thousands of prints and drawings attacking various notables. Gillray also devoted his attentions to lampooning the French and especially Napoleon, while glorifying the personification of England, John Bull. Gillray's deft technique ranged from subtle criticism and innuendo to coarse and vulgar attacks on his satirical targets.
One anecdote says that when King George saw one of the caricatures of himself, he remarked that he did not understand them. Gillray then stepped up his attacks with even more venom.
Gillray lived most of his adult life with a Miss Humphrey, sometimes referred to as Mrs. Humphrey, who owned a shop which published and exhibited his prints. Miss Humphries and the shop, and even Gillray, are sometimes depicted inconspicuously within his caricatures.
The exact nature of Gillray's relationship with Miss Humphrey is not clear. It is said that he thought of marrying her, and that on one occasion he was on the way to the church with Mrs. Humphrey when he stopped and remarked: "This is a foolish affair, methinks, Miss Humphrey. We live very comfortably together; we had better let well alone." And that was that.
In 1806, Gillray's eyesight began to fade and the quality of his work suffered. Despondent, Gillray turned to alcohol which caused him to suffer painfully from gout. In 1811, Gillray attempted suicide by jumping from the roof of Humphrey's shop but he survived and became insane. He was cared for by Miss Humphrey until his death three years later.
Gillray is regarded as one of the most influential political caricaturists of all times. He influenced many contemporaries including George Cruikshank and many modern caricaturists also acknowledge their debt to him.
Examples of Works by James Gillray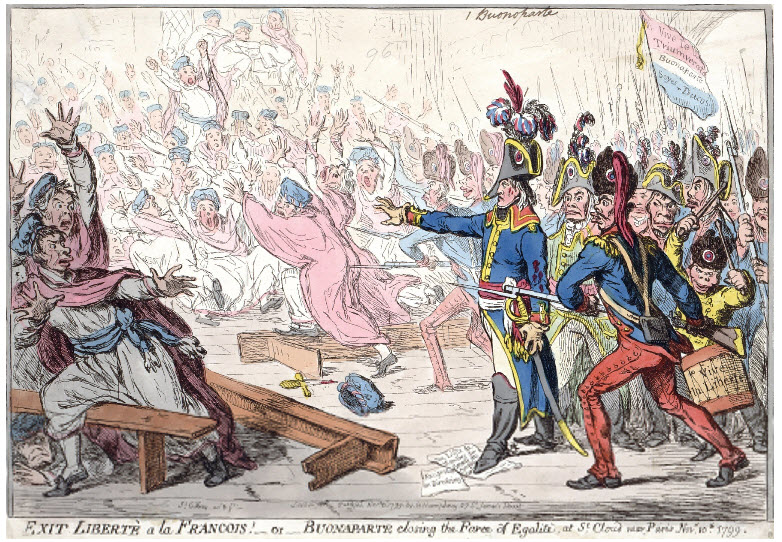 The title reads: Exit Liberty, the French Way. The cartoon shows Napoleon with his grenadiers driving the members of the Council of Five Hundred from the Orangery at St. Cloud at bayonet point. A drum is labeled "Vive la Liberte," and papers under foot read "Resignation des Directoires" and "Un liste de Membres du Conseil des Cinque Cents." On November 10, 1799, in a move known as the Coup d'État of Eighteenth Brumaire, Napoleon seized control of the French government and installed himself as First Consul, thereafter governing as a dictator. James Gillray was the dominant caricaturist of his period, producing popular savage cartoons of the English court of George III and later of Napoleon and the French Revolution.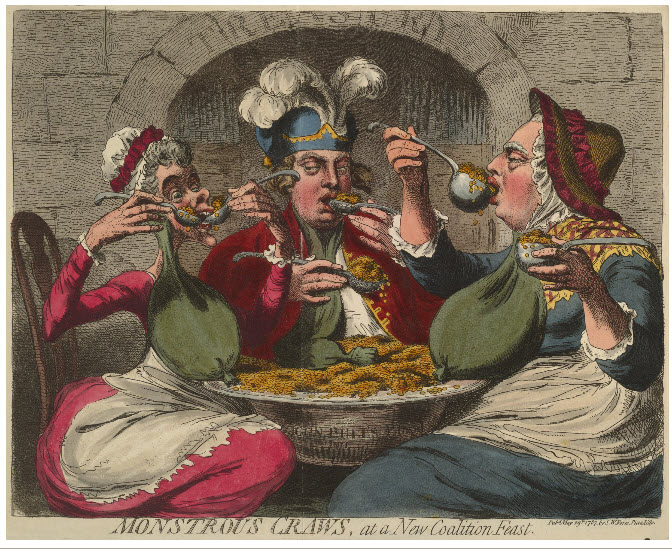 Monstrous crows, at a new coalition feast. Cartoon shows King George, dressed as an old woman, the Queen, and the Prince of Wales seated around a basin perched on the laps of the King and Queen; they eagerly spoon the contents, representing gold coins, into their mouths. Pouches hanging from their necks like goiters are full, except for that of the Prince of Wales, whose is empty. The gate to the treasury, in the background, is open.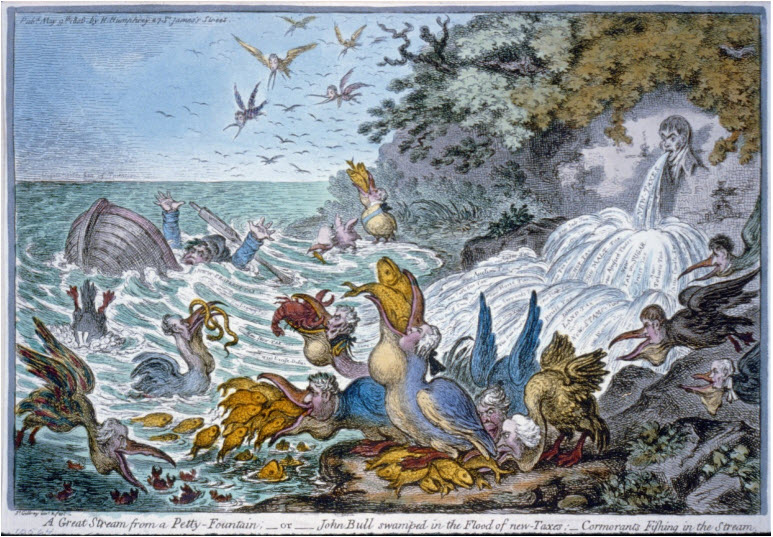 A great stream from a petty-fountain; or John Bull swamped in the flood of new - taxes; - cormorants fishing the stream. John Bull in boat sinking, losing an oar labeled with Pitt's name as cormorants including Lord Grenville and Charles James Fox stuffing themselves with fish.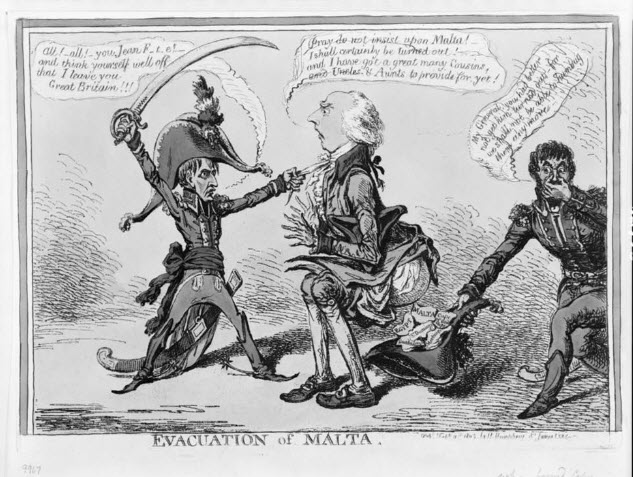 The evacuation of Malta during the Napoleonic wars. Addington squats over cocked hat into which he evacuates papers including "Egypt," "Guadeloupe," and last, "Malta," Napoleon holds him by the cravat and threatens him.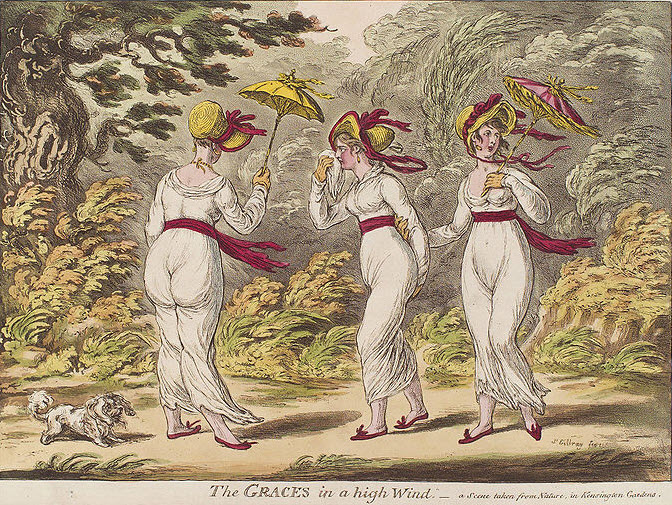 The Graces in a High Wind", a satirical engraving by James Gillray (published 1810).This caricatures the loosely-clinging Empire/Regency styles, worn with few layers of stiffening petticoats.
---